A tournament for all
Putting Our 2020 Product to Good Use
Cancellation has meant that we have an extraordinary amount of excess dated product and has allowed us to evaluate what it is that makes this type of merchandise so special for sports fans.
"Summer's lease hath all too short a date"
This is perhaps stretching the point Shakespeare was making, but the cancellation of The Championships, along with a number of other high profile sporting events this year, has prompted some interesting back and forth in the industry about dated merchandise. "What is the appeal of dated product?" "What happens to leftover stock?", "What is the right number of products to make?"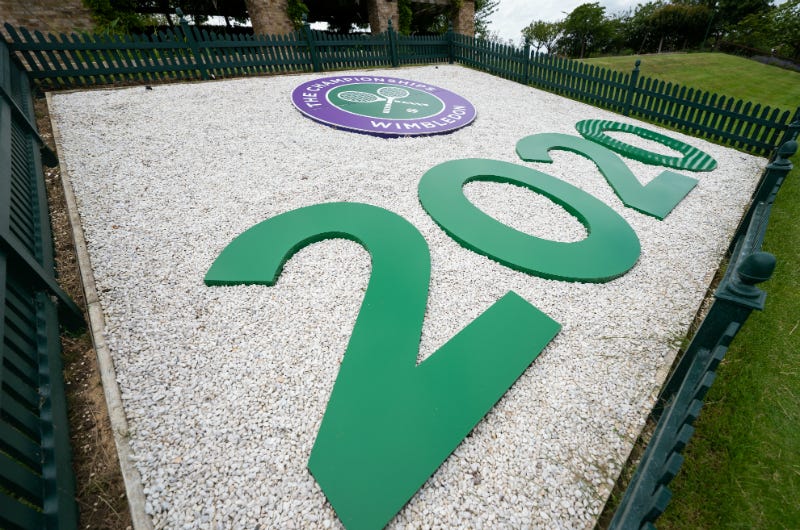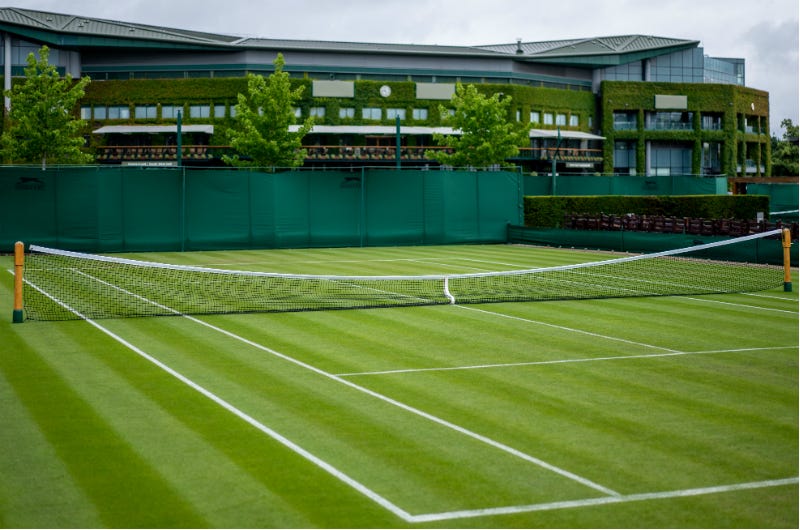 The grounds of The All England Lawn Tennis Club are quiet this Championships fortnight
What is the right number of dated products?
The short answer is that no one knows, or at least, if anyone does know, please feel free to share
"Why dated product?"
Wimbledon, for many of our guests, is a once in a lifetime experience. If our dated range can amplify their visit, provide them with something to smile at when they see it, then that's exactly why we offer it. For some, it's a tin of balls, a keyring, a cap, a T-shirt or simply a candidate for 'my favourite mug'. For very many others, it's the iconic dated towel. Players have a well-publicised fondness for these and it's no surprise that so many fans feel the same way. They have become collectables. So despite no tournament this year and sadly, no guests onsite, our absent guests were still looking for that statement piece via our online shop. Many have even used their 2020 towel to join in our 'Wimbledon Recreated' campaign.
"What is the right number of dated products?"
The short answer is that no one knows, or at least, if anyone does know, please feel free to share. The longer answer is that a lot of hard work goes into analysing historical sales, minimum quantity orders and the balance of what feels 'right' when dated product is put alongside our very much larger undated collection. The problem with the maths lies in the nature of Wimbledon itself and its wonderful unpredictability on so many levels. There are obvious examples, but they live comfortably in the land of hindsight. An unseeded player becomes an overnight star? A rain soaked Fortnight? A British winner?
Suddenly the 'I was there' moment is elevated to something historic and maybe we should be ready for that. But the answer doesn't lie in dated product, it rests on our efforts to engage with all our fans, whether they are on the Grounds or not. We want to make the whole experience memorable and hopefully that's what everyone can take away. In other words, 'No purchase necessary'.

Wimbledon have made many donations both locally and nationally to those who have been at the forefront of the COVID-19 combat and will continue to do so
"What happens to leftover stock?"
Seasoned merchandisers will often say that "stock is evil". And in many respects this is true, especially when we consider the much greater and much more welcome current understanding of sustainability and supply. We have a responsibility to 'buy smart' from a commercial standpoint, but we have a greater one to ensure we never find ourselves in a position where something goes to waste.
When the cancellation came this year we knew we had an extraordinary amount of excess dated product, especially tennis balls and towels. At Wimbledon we exist for tennis, so we felt the balls should be donated to associations, clubs and schools, whilst the towels should go to charitable causes selected by our colleagues at the Wimbledon Foundation. So we crunched the numbers and came up with a tally, a very large one, resulting in The AELTC announcement on 6 July that over 30,000 tennis balls and a minimum of 25,000 towels would be donated in this way – the balls to support the return of tennis, and the towels to help the charities tackling homelessness.
And of course, we have kept some limited stock in reserve for our online shop guests, so if you feel inclined, or interested to own your own piece of 2020 history, click here to take a look at our 2020 range today.