Inspired by Tradition
Graphically Speaking...
We spoke with our apparel print designer here at Wimbledon on how he goes about his work
At Wimbledon we are known for near obsessive detail. We use every tool at our disposal and endeavour to create the world's most prestigious sports tournament on an annual basis. The result is hopefully a memorable Championships for all our guests and our merchandise plays its own role in that.
The Wimbledon collection is developed and sourced from our home is London SW19. For the first in a recurring series about design we spoke with Marcus, one of our key apparel designers and someone with great experience of working with global sports entities. We would like to share his insight into the design process and the very important contribution it makes to the creation and overall look of our product range.
"Being able to work on designs sold at the most famous tennis tournament in the world is enough to excite anyone"
Q. How do you go about designing a collection?
A. I'm a big planner. Having checkpoints and time to be creative are musts for me. Great design should always stand the test of time, so designing a range over the course of a year is ideal. If I still think the design is good and I am proud of how it looks after a year, then I believe it will have longevity.
Q. What do you take into consideration when given the design brief?
A. For me, it is important to look at references that will be in line with the release date. Sometimes these references can be overused or even before their time in certain cases. How this would work using the Wimbledon colour palette and how designs work alongside other parts of the collection are vital.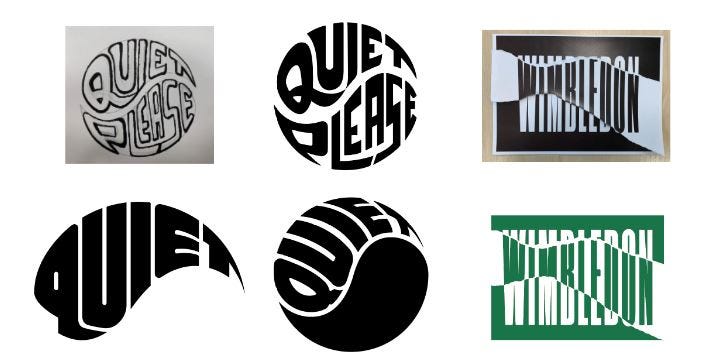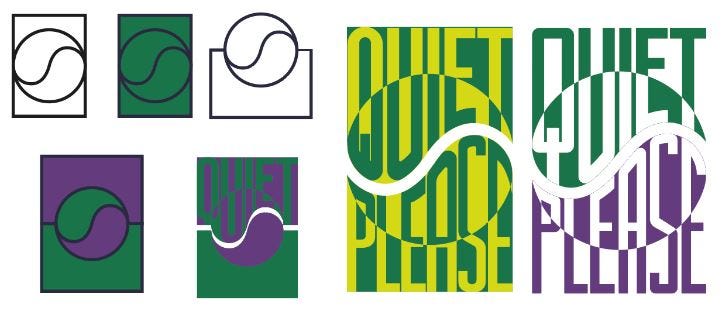 This design progressed from a 'boring meeting sketch' to a t-shirt print that combines Wimbledon's famous Umpire's phrase 'quiet please' and a tennis ball hit with ferocious spin
Q. Where is your start point?
A. I always start with a research phase. I find looking at catwalk fashion, high street fashion, architecture, graphic design and sport culture enables me to cover a wide range of references and gives me a good base to create from. From there it is about getting as many ideas down as possible, no matter how good or bad they might be. Sometimes something that started by looking awful actually develops into a highlight piece!
Q. What influences you when designing something specific like a graphic T-shirt?
A. I will always find references and make connections that are authentic and easy to explain. If I can't talk through the design to the rest of the team in 20 seconds, it will be hard for anyone to see the connection without hearing the story behind it. I always remind myself that the vast majority of people that interact with my designs will not know my references or any story behind it (even if it is heavily marketed) so first and foremost, it must look good.
Q. How much time do you spend going back and forth to refine a design before you are completely happy with it?
A. This really varies, sometimes things just click, and a design can be 90% complete at the initial ideas stage. Other times though, it can be a real struggle to execute what I can see in my head. I have been up to nearly 100 variations of designs before. The key is persistence. Sometimes it can feel like I am hitting my head against the wall but when it does click, it all starts to come together!
Q. What excites you about designing for Wimbledon?
A. Being able to work on designs sold at the most famous tennis tournament in the world is enough to excite anyone, but the first thing that comes to mind is the team. Since joining, the team I work with have enabled me to present any idea I think would work. This isn't saying that they like them all (and they don't) but having the creative freedom to express myself cannot be underestimated. This freedom enables me to push myself beyond my comfort zone and create work I am hugely proud of.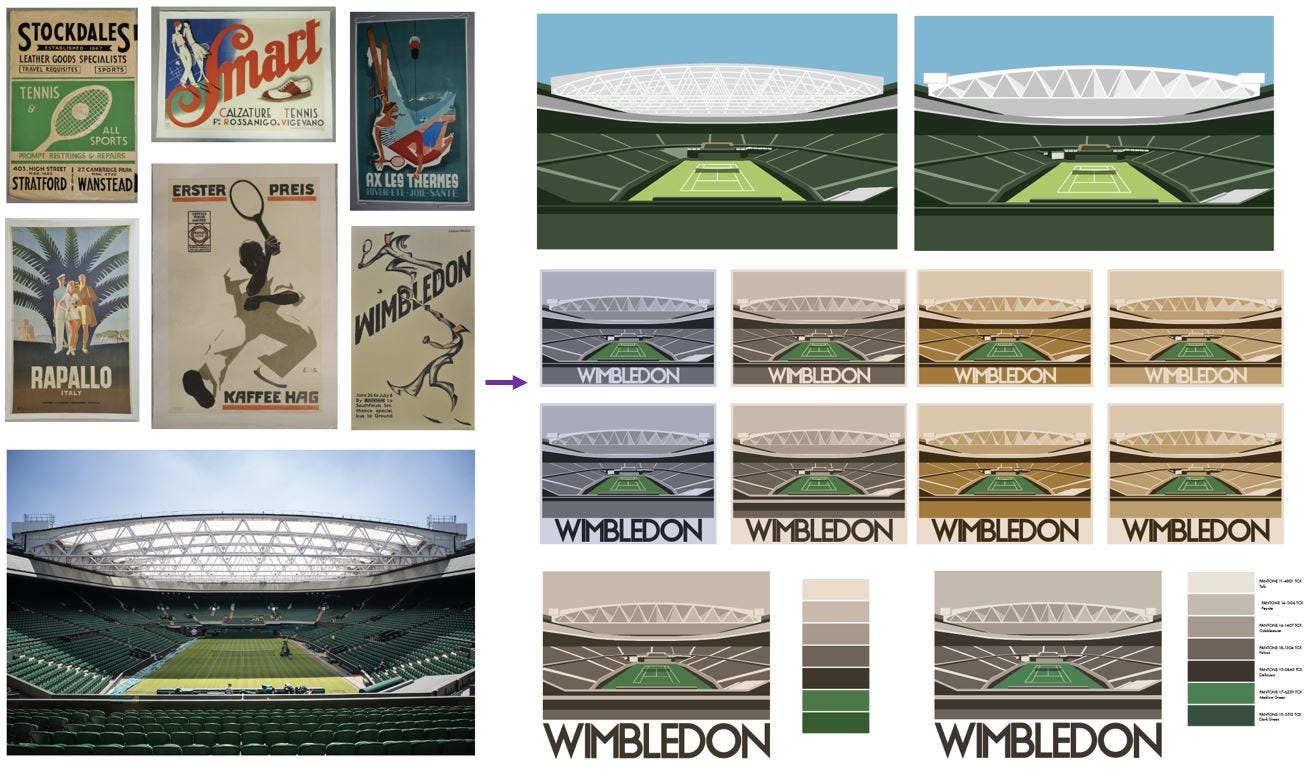 In this example, Marcus explored our museum archives to find some iconic tennis advertising from yesteryear. Combining this inspiration with modern design, an instantly recognisible and imapctful t-shirt print of Centre Court was produced.
For first access to Wimbledon Shop stories, products and offers, be sure to opt-in to the 'Merchandise' preference within your MyWimbledon account. Stay tuned for more interviews and insight from key personnel and partners of the Wimbledon retail operation in the near future. To sign up to MyWimbledon, please click here